On this page, we highlight CCTE members. It's a quick way for folks to "get to know" our organization and the people behind it. Enjoy!
February 2023 Spotlight – Editor, Teacher Education Quarterly Reyes Quezada
Dr. Reyes L. Quezada is the department chair and a professor in the Department of Learning and Teaching at the University of San Diego in the School of Leadership and Education Sciences. His doctorate is from Northern Arizona University in Flagstaff and also holds degrees in counselor education and administration and  supervision from SJSU, SDSU, Point Loma University, and USD. He has been an elementary bilingual classroom teacher and a community college counselor and program coordinator.
His research and teaching focus is on cultural proficiency, equity, family-school and community engagement, action research, community college students of color and their resiliency, and international education. He teaches in USD's PhD in Education for Social Justice, the Graduate Med. And teacher credential program.  He has published books, book chapters and over 25 articles on teacher education in the Journal of Education for Teaching, Journal of Multicultural Education, the Catholic Education Journal, Teaching Education, and, Journal of Education and Teaching, the Journal of Applied Research in Community Colleges, Teacher Education Quarterly, and others.
He has served in multiple positions in the California Council on Teacher Education (CCTE). He is the Editor for Teacher Education Quarterly, served as President of CCTE, as a CCTE board member, and a CCTE representative to both the Association of Teacher Educators, (ATE) and the American Association of Colleges for Teacher Education (AACTE). He is also the current Past Chair of the International Council for the Education of Teachers (ICET) and a former Board Member for the American Association of Colleges for Teacher Education (AACTE).
He has served on state and national accreditation agencies, as he currently serves on the Association for Advancing Quality Educator Programs (AAQEP), was the Co-chair for the California Commission on Teacher Credentialing-Committee on Accreditation (CCTC-COA), and a former Board member for the Council on Accreditation of Educator Preparation programs (CAEP).
In his professional community he is the Vice Chair of the University of San Diego Senate and is on the Executive Council and Presidents Cabinet. He has served as the Associate Director for the National Community College Hispanic Council, a former San Bernardino County-Third District Supervisor Representative to the Equal Opportunity Commission, Former Board President of Real Journey Academies Charter schools and on the advisory board of  Excellence for  Educational Justice   (EJE Academies) Charter School, and on the Old Town Academy Charter School Board.
November 2022 Spotlight – CCTE Policy Committee Co-Chair Nicol Howard
 Nicol R. Howard, PhD is an Associate Professor in the School of Education's Department of Teaching and   Learning at the University of Redlands. Dr. Howard is also the Associate Dean of Academic Affairs and Co-   Director of the Race in Education Analytics Learning Lab (REAL Lab) where she engages with students in   quantitative and mixed methods research projects to critically examine systems, policies, and practices.   Dr. Howard's research focuses on equity and identity development in STEM/CS education and family   involvement. Recently she has been examining the racialized experiences of Black girls and families in   mathematics and computer science learning spaces. She is an National Science Foundation QCM Scholar in the Institute in Critical Quantitative, Computational, and Mixed-Methodology (ICQCM). In addition to her journal publications, Dr. Howard has co-authored books such as: Closing the Gap: Digital Equity Strategies for Teacher Prep Programs and Coding+Math: Strengthen K-5 Math Skills with Computer Science. She is also co-editor for the Journal of Computer Science Integration and an associate editor for the American Educational Research Association's (AERA) Review in Educational Research journal. She is the current Communications Chair for AERA's Research in Mathematics Education SIG and also co-chairs the California Council on Teacher Education's Technology and Teacher Education SIG, Policy Committee, and their Spring Policy Action Network.
October 2022 Spotlight – CCTE Board of Directors Member (2022-25) Daniel Soodjinda
Dr. Daniel Soodjinda is currently a Professor of Teacher Education and Liberal Studies at California State University (CSU) Stanislaus where he focus on how racial justice and anti-racism frameworks can inform the field of teacher education. His previous research focused on the intersections between the racial, gender, and sexual identities of LGBTQ+ Asian American students and his current projects investigate the impact of the California Teaching Performance Assessment (CalTPA) on credential programs.
At CSU Stanislaus, Dr. Soodjinda also serves as co-chair to the President's Commission on Diversity and Inclusion (PCDI) where he has taken the lead in developing, drafting and implementing the institution's first Diversity and Inclusion Action Plan. He also works closely with CSU Chancellor's Office as the director for the Educator Preparation Toolkit and in the past worked as the director for the CSU Digital Ambassador's Program.
Dr. Soodjinda has been active with CCTE since 2012 and is serving his first year as a CCTE Board Member.  He is also involved with the CCTE Policy Committee and the CCTE Committee for Justice, Equity, Diversity, and Inclusion (JEDI).
September 2022 Spotlight – CCTE Board of Directors Member (2022-25) Kara Ireland D-Ambrosio
Dr. Kara Ireland D'Ambrosio is an Adjunct Professor of Music Education, MA Advisor, and Integrated Performing Arts Across the Curriculum at San Jose State University. She also teaches music (TK-8) at Woodside School, where she won a Grammy Gold in 2002 for Excellence in Music Education. Kara has special interest in Humanistic Pedagogy, JEDI (justice equity diversity, inclusion), Anti-Racist Arts, Social-Emotional Learning, preservice education, and interventions for income inequality. Recently, she has collaborated in writing a chapter for the Oxford Handbook of Care in Music Education.  
Kara served two terms on Bay Section CMEA Board (Special Representative for Classroom music, 2006-2010 and Higher Ed Representative 2017-2021) and is currently serves on the state CMEA Council of Representatives (Higher Ed).
For the past several years, Kara has been the chair of the CCTE Field Placement Forum.  This forum connects field placement coordinators in order to provide networking and professional development with the outcome of cultivating supportive, strong credential program leaders across the CA university credential programs. As a CCTE Board Member, she values working with educational leaders from the diverse California communities. 
August 2022 Spotlight – CCTE Board of Directors Member (2022-23) Kimiya Maghzi 
Dr. Maghzi is an Assistant Professor and Coordinator of the Education Specialist Program at the University of Redlands in the School of Education. Prior to joining the University of Redlands faculty, she taught in the Los Angeles Unified School District, Saddleback Valley Unified School District, and Westminster Unified in elementary Mild/Moderate Disabilities Special Day Classroom settings. She has also taught as an adjunct faculty at Chapman University.  
Dr. Maghzi believes in the importance of education and training for all individuals, and therefore her essential core principles that guide her practice as an educator are justice, compassion, and collaboration. Additionally, since she is the child of immigrants who came to this country to escape religious persecution, she has a strong commitment to justice, equity, the promotion of unity, the abandonment of all types of prejudice, and the oneness of humanity. Thus, she has dedicated her studies and teaching to eliminating oppressive practices and supporting diversity including race, ethnicity, gender, age, religion, language, dis/abilities, sexual orientation, and socioeconomic status. She actualizes her commitment to social justice through teaching. She is committed to empowering students to think critically about their world and examine the positive and negative forces influencing their community and social inequalities within it. 
Dr. Magzhi is honored to be able to serve on the California Council on Teacher Education (CCTE) board.  She has been a member of CCTE since 2015 and thoroughly enjoys the sharing of ideas and learning that takes place at CCTE. She is passionate about education, diversity, justice, dis/ability, and inclusion and is excited to draw upon her experiences as a member of the CCTE Policy Committee while serving in this new capacity. In addition to her work with CCTE, she also serves as the AERA American Education Research Association secretary and treasurer for the Disability Studies in Education Sig. She looks forward to continuing to contribute to academia through research, teaching, and service.
July 2022 Spotlight – Editor of CCTE eNews Briefs Grace Fantaroni
Dr. Grace Fantaroni is a professor in the School of Education at Point Loma Nazarene University.  Her focus is on supporting parents and families, especially diverse populations, understand and access support for autism spectrum disorders and other special needs. In addition, she has extensive expertise in positive behavior supports, supporting communication for students with limited language, and preparing teachers to be trauma-informed.  Dr. Fantaroni loves sharing her passion to serve schools, families, and students in special education at PLNU. She has been active with CCTE for a number of years and has been co-editor and editor of eNews Briefs since October 2020. 
June 2022 Spotlight – CCTE Board of Directors Member (2022-25) Antoinette Linton
Dr. Antoinette Linton is an Associate Professor of Science Education at California State University Fullerton. She taught high school for a number of years in San Diego and Los Angeles. Her research interests include science education and epistemic practices that operationalize the NGSS for students and teachers. Dr. Linton is co-PI and lead educational researcher of an NSF IUSE grant focused on improving the academic success of underrepresented students and women in engineering.
Dr. Linton is actively involved with many professional organizations, most notably the American Educational Research Association (AERA) where she served where she served on the advisory board for Division K, and with CCTE where she has represented CSUF's College of Education since 2013, presented her research, and worked with the Field Directors Forum. She is delighted to be a CCTE Board Member where she can continue to work with other educational leaders from throughout California. 
May 2022 Spotlight – CCTE Co-Assistant Executive Secretary Monica Boomgard
CCTE has enriched both my professional and personal life. An active member of the CCTE community since 2008 while enrolled at the University of San Francisco's Ed.D program, I have had the good fortune to form professional and personal relationships that have positively influenced my work with students in higher education.    I have served as an executive board member for CCTE from 2017 – 2020 and currently am a member of the board on CAPSE/TED, an affiliate of CCTE. 
I started my educational career as a K-12 special educator in Los Angeles and currently, work as a full-time lecturer in the Department of Special Education at California State University Northridge, Dominguez Hills and East Bay. My considerable working in the field with student teachers, interns, advanced candidates, and the administrators and paraeducators that support them in their classrooms makes me a great candidate for the board position.  As a teacher educator with a balanced point-of-view, I can provide insight and leadership as a board member. 
During the Covid pandemic and subsequent lockdown in 2020, I spent my spare time becoming a certified yoga teacher.  Amazingly, the training has "spilled" into my professional life in that I use some of the awareness and mindfulness techniques when working with teacher candidates and interns in the field.
Several years ago, Alan Jones reached out to me about assisting with conference preparations such as organizing the Special Interest Groups.  I was glad to chip in.  More recently, I have been asked by the Executive Board to play a bigger role with Laurie Hansen as the Co-assistant to the Executive Secretary.  This Spring, you may have seen me "manning the reception table" in Sacramento for SPAN 2022.   A smile here, as I began my work life just out of university in the travel business and the experience brought back memories of those days.
Dr. Boomgard is a Lecturer in the Department of Special Education at California State University Northridge
April 2022 Spotlight – Editor, Issues in Teacher Education & AICCU-ED President Allison Smith
 Dr. Allison Smith is an Associate Professor in the School of Education at University of Massachusetts Global. She has been deeply involved with the California Council on Teacher Education (CCTE), serving on the Board of Directors, the Policy Committee, and working on the conference committee to help plan the fall 2022 CCTE conference. Dr. Smith also serves as the President of the Association of Independent California Colleges and Universities with Education programs (AICCU-ED) and is the Editor of the Issues in Teacher Education journal. Dr. Smith's current research focuses on aspects of clinical practice, including the CalTPA and video mentoring. She is also involved at the national level with the Association of Teacher Educators as a Clinical Practice Fellow. Her involvement at the state and national levels, as well as serving as the editor of an international peer reviewed journal, keep her informed and current in the field of education.
Prior to her work in higher education in California, Dr. Smith was the Director of Assessment and Teacher Education at the University of Nevada, Las Vegas. She collaborated with many community organizations, including the Clark County Black Caucus, Workforce Development, and Career and Technical Education teacher pathway development. She was also the PI on a large-scale state funded grant focused on diversifying the teacher workforce, with a focus on community and parent involvement.
Outside of work, Dr. Smith is an avid beach lover who enjoys going on adventures with her husband and ten-year-old son. Some of her most recent adventures include dogsledding in Jackson Hole, Wyoming; wine tasting in the Valle de Guadalupe, Mexico; and fishing on an airboat off the coast of Rockport, Texas.
Recent Publications:
Meetze-Hall, M., Smith, A., Walters, K.A., & Arnold, B. (2021). Increased Reliance on Video Coaching During COVID-19: Understanding Educators' Experiences. The Spring 2021 Research Monograph, 48-56.
Smith, A., Arnold, B. J., Meetze-Hall, M., Piowlski, L. (2020). CalTPA handbook: Unpacking equitable practices in the California teaching performance assessment. Great River Learning.
Meetze-Hall, M., & Smith, A. (2020). Bridging anti-racism pedagogy across teacher pre-service and in-service programs: The importance of collaborative solutions to deepen teacher practice in situ. The Fall 2020 Research Monograph, 82-88.
March 2022 Spotlight – President of the ACCCTEP Steven Bautista
Since 2000, Dr. Bautista has served as a Professor, Counselor and the Faculty Program Coordinator for the Center for Teacher Education at Santa Ana College (SAC).  This highly successful program has been awarded the prestigious Exemplary Program Award by the Academic Senate for California Community Colleges, recognizing outstanding community college programs.  In his work as program coordinator for the Center for Teacher Education, Steve oversees the daily operation of a multifaceted academic and student services program aimed at the preparation of K-12 teachers. Steve serves as the current President of the Association of California Community College Teacher Education Programs (ACCCTEP), the co-chair for the Regional Teacher Education Council in Southern California and was previously an executive board member of the National Association of Community College Teacher Education Programs (NACCTEP).  In 2015, Steve was selected by his peers for the Distinguished Faculty Award. The Distinguished Faculty Award is awarded for teaching excellence and is the highest honor bestowed upon a faculty member of Santa Ana College.  In 2017, Steve was honored as one of five Orange County Teachers of the Year.  Before joining Santa Ana College, Steve served as the Transfer Center Director at Fullerton College. He earned his bachelor's degree in Psychology, master's degree in Clinical Psychology and his doctorate in Community College Leadership, all from California State University, Fullerton.  
Steve is the proud father of two beautiful daughters and has been married to Judi, his college sweetheart for over 25 years.  In his spare time, he enjoys spending time with his family, going to Disneyland with Judi, relaxing at the beach and running.
Dissertation info:
Bautista, S. M. (2020). Hope for the Future: An exploratory qualitative study on Latinx community college students aspiring to become K-12 teachers (Doctoral dissertation, California State University, Fullerton).
February 2022 Spotlight – CCTE Board of Directors & Chair of the Research Committee Karen Escalante
Dr. Karen Escalante is an Assistant Professor in the College of Education at California State University San Bernardino where she teaches pedagogical courses grounded in social justice and humanizing pedagogy. Karen is a board member and research chair for the California Council on Teacher Education (CCTE), serves as part of the research team and advisory board for UCLA's Center for the Transformation of School's California Educator Diversity Project, serves as a member of AACTE's Program Advisory Committee on Educator Diversity (PACED), and is a supporting faculty member for the Project Impact program at her campus which works to recruit and mentor men of color entering the teaching profession. Karen's current research focuses on if/how California's teaching performance assessment can shift the field away from deficit ideology and towards a narrative that is anchored in anti-racist practices. Outside of work, Karen loves going on adventures with her family and friends. She also enjoys practicing yoga and Pilates.
Recent Publications
January 2022 Spotlight – CCTE Board of Directors Grace Cho
Dr. Grace Cho is honored to be a member of the CCTE Board of Directors.  She has a strong passion for and commitment to the field of teacher education.  She earned a Ph.D. in Education, specializing in Language, Literacy & Learning from the University of Southern California and is currently a professor in the College of Education at California State University, Fullerton. 
For the last 24 years of working in the institution of higher education, she has served as a faculty member, as an administrator, and a program coordinator at an array of positions, including Department Chair, World Language Single Subject Credential Program Coordinator, Professional Development District director and Cross-cultural Language and Academic Development (CLAD) coordinator at both CSUF and Biola Universities.  Through these experiences, she has developed management skills as well as deep understanding of policies, budgets, program standards and practices affecting teacher education programs. 
While serving as the Department Chair of Secondary Education at CSUF for five years, she provided leadership in the development of new programs including Korean, Mandarin and Vietnamese bilingual authorization programs and the new English language development credential. Recently, She also developed a study abroad program for graduate students to experience language immersion in Spain.
As a former LAUSD teacher and a federal Title VII Bilingual Fellow, her teaching and research focused on preparing educators in supporting culturally and linguistically diverse populations.  She continues participating in statewide committees, organizations and special interest groups working collaboratively with educators, parents and community members to enhance educational opportunities, experiences and learning for all students.  She provided leadership to the CA teacher education community on many grounds to support, encourage and advocate the efforts of teacher educators across the state that impact teacher preparation programs, especially in the area of bilingual education.  She currently serves as an executive board member for the California Association for Bilingual Teacher Education (CABTE).
Grace has been attending regularly and presenting at CCTE annual meetings.  Recently, she volunteered to serve as a CCTE conference proposal reviewer.  Through learning about CCTE's goals and purposes, she continues to witness the important role this organization plays on the enhancement of teacher education programs. She believe that her experiences in program development and administration, teaching experiences and my involvement with several professional organizations are an asset to CCTE and it is a great privilege to have the opportunity to service this organization.
October 2021 Spotlight – CCTE Assistant Executive Secretary Laurie Hansen
Dr. Laurie Hansen has been a teacher and teacher educator for 28 years. She began her career as a district intern in the Los Angeles Unified School District, teaching Grades 1-3 at Middleton Elementary School. Her experiences working with the diverse Latinx community in Huntington Park, CA solidified her interest in second language acquisition and put her on a trajectory to become a scholar of language, literacy, and technology. 
Laurie is the Teacher Education Fieldwork & Assessment Manager at Chapman University. She supports all multiple subject, single subject, and education specialist credential candidates with fieldwork and CalTPA. Prior to this work, she taught a wide variety of courses in elementary and secondary education and held several coordinator positions at California State University, Fullerton from 1999 to 2021. She was also an adjunct faculty member for UCLA Extension and UC Irvine.
Laurie has been involved with CCTE since 2005. She participated in the CCTE Graduate Student Support Program while studying at the University of California, Irvine, which allowed her to attend and present at CCTE conferences. After earning her Ph.D, she participated in the CCTE New Faculty Support Program and presented at the Fall 2011 Conference, "Language minority children's growth in vocabulary knowledge and literacy skills" based on her dissertation research. Prior to becoming the CCTE Assistant Executive Secretary, she was a Board Member (2012-2015), Chair of the CCTE Research Committee (2013-2017), Co-chair of the Communications Committee (2013-2017), and Editor of CCNews (2018-2020). She currently is co-editor of CCTE eNews Briefs. 
Laurie is delighted to serve as the Assistant Executive Secretary for CCTE. In this role, she support Alan Jones (CCTE Executive Secretary) with communication and conference activities. Most recently, she served as the on-site coordinator for the Fall 2021 Conference, facilitating live streaming of main sessions and working with hotel staff to ensure a successful event. 
September 2021 Spotlight – CCTE Board of Directors Anaida Colón-Muñiz
 Anaida Colón-Muñiz has dedicated her life's work to the improvement of educational opportunities for language diverse and poor children, with a special emphasis on the role of teachers and teacher educators. Her foundations began early in her educational career as a Spanish speaking Puerto Rican student raised in New York City, learning to affirm her background, and seeking equity and social justice.
Dr. Colon-Muniz attended Binghamton University (B.S. 1973), Bank Street College of Education (M.S. 1974), and the University of Massachusetts, Amherst (Ed.D. 1983). After a semester at the University of Salamanca, Spain (1971), she did two independent research studies in Puerto Rico (1972).  She completed her administrative credential from CSU Fullerton (1985), a fellowship with the Education Policy Fellowship Program (IEL, 1991), and the Spanish Children's Literature Institute, University of Madrid Complutense, sponsored by the Spanish Ministry of Education and the California Department of Education (1991). In 2017 she was appointed School Development Consultant of Dong An Experimental School Attached to Northeast Normal University in Changchun, China.
Anaida began her 47 year education career in New York City as an elementary bilingual teacher in District 3 in Morningside, the upper West side of Manhattan just below Harlem. Later she was hired by the City School District of New York for a Title VII Trilingual (Spanish, Italian and English) Education Professional Development Grant where she involved master's degree bilingual in-service teacher candidates in creative curriculum projects.  She then served two State Departments of Education in New York, where she liaised with secondary students for the Chancellor's Office, and later in Massachusetts, where she became Lau Consultant, engaging in the implementation of bilingual education policies and practices with schools. During her doctoral studies, she became a bilingual resource teacher in Holyoke, MA for one of the first dual language desegregation programs in the country. Moving to California, she worked for two major regional federal Title VII bilingual teacher professional development grants, first at Cal State University, Fullerton and then at San Diego State University. She later was bilingual administrator for three Southern California Districts including Rowland Heights, Orange Unified and Santa Ana Unified, developing bilingual programs of excellence, providing state of the art professional development, attaining millions of dollars in grants, monitoring program quality, and ensuring that students, teachers, administrators, and parents were supported.
Anaida joined the Chapman faculty in 1999 and retired with emeritus status in 2020 but continues to serve on PhD committees and in the Paulo Freire Democratic Project.  For 20 years, she served in various roles in the Attallah College of Educational Studies. She first coordinated and taught in the Multiple Subject and Bilingual Credential and Master of Arts in Teaching programs for 13 years and later also taught in the PhD program. Most recently, she served as director of community education at Centro Comunitario de Educación in Santa Ana for 7 years, a university-community based effort to bridge the college of education with parents, community members, in-service and pre-service teachers, children, and faculty. While at Chapman, her research interests included bilingual education, language policy in education, critical multicultural teacher education, community education and the civil rights in education affecting Latino youth. Her publications include co-authoring the books Memories of Paulo Freire (Sense Publishers, 2010), a collection of memories of people who knew and emulated the work of Paulo Freire, and Latino Civil Rights in Education: La lucha sigue (Routledge, 2016), narratives of history and struggle in the quest for educational equity and bilingual education. She speaks and consults on critical bilingual multicultural education and community education.
Anaida served as State president for the California Association for Bilingual Education (1998-2002). She was on the board of the Orange County Children's Therapeutic Arts Center for 8 years, an inclusive bilingual community center that uses the visual and performing arts to support the integration, growth, and engagement of children with disabilities and special needs with general education students. Anaida was also a key consultant in the early development of the El Sol Science and Arts Academy, an award winning dual language school in Santa Ana, where she is currently on its board. Also, an advocate for women's rights, she has served as national president for the National Conference of Puerto Rican Women (2006-2008) and is currently the SoCal chapter president. She is also a California delegate for Vision 2020, National Women's Equality Initiative, Drexel University. Currently a board member for the California Council on Teacher Education, over the years Anaida has served as a committee member, conference co-chair, co-chair of the social justice special interest group, and member of California Association of Bilingual Teacher Educators.   
August 2021 Spotlight – CCTE Vice-President for AACTE Kimberly White-Smith
Dr. Kimberly A. White-Smith is Professor and Dean of the LaFetra College of Education (LFCE) at the University of La Verne (ULV), a Hispanic Serving Institution, serving approximately 50% Latinx students and about 40% first-generation students. With more than 25 years of experience in urban education and teacher development, Dr. White-Smith is the intellectual force behind endeavors that foster academic justice for Black, Indigenous, and Latinx students, as well as other marginalized student identities through enhanced educational environments, organizational structures, policies, and teaching practices. She has authored articles and book chapters on diversity, inclusivity, and leadership, such as, "That's why I say stay in school": Black Mothers' Parental Involvement, Cultural Wealth, and Exclusion in their Sons Schooling, co-authored with Dr. Quaylan Allen. Her current book is Through the fire: From intake to credential, teacher candidates share their experiences through narrative, co-authored by Hayes, Fashing-Varner & Eisworth. The book explores how teacher educators can better prepare teachers against a backdrop of historical schooling inequalities. Dr. White-Smith engages the national conversation on teacher education through critical positions. She is a Vice-president of the California Council on Teacher Education (CCTE). In addition, she is a Member of the Executive Committee of the Board of Directors for the American Association of Colleges of Teacher Education (AACTE) and WestEd, a non-profit research lab that generates over $167M to study and transform education in the U.S.
July 2021 Spotlight – CCTE Board of Directors and Communication Committee Co-chair Betina Hsieh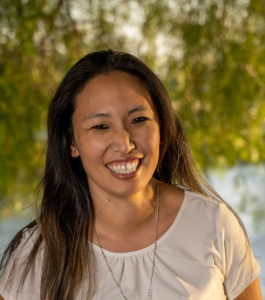 Dr. Betina Hsieh (@ProfHsieh) is a current CCTE board member (2019-2022) and Co-chair of the Communication Committee. She served last year as Professor and Director of Teacher Education for the LaFetra College of Education at the University of La Verne, and is returning this year to her position as Associate Professor of (secondary) teacher education at California State University, Long Beach, where she will be making the most of a fall sabbatical. Her teacher education work is informed by 10 years of urban middle school classroom experience, K-12 literacy coaching, and work as co-director of the Bay Area Writing Project. At the heart of Dr. Hsieh's work is the exploration of how teacher identity (who people are) shapes teacher choice making (what people do) as educators. She is deeply committed to creating more equitable spaces as a teacher educator that promote the success, sustenance and empowerment of teacher candidates from marginalized subgroups both through their preliminary educator development and as they enter classroom spaces. Dr. Hsieh's current research interests include identity-informed mentoring in teacher education spaces, the emergence and development of a teacher (and teacher educator) professional identity, social media and teacher education, Asian American MotherScholars, and the experiences of teachers of color.  Her recent publications include articles in Contemporary Issues in Technology and Teacher Education, English Teaching: Practice and Critique, Literacy Research and Instruction, Journal of Diversity in Higher Education, and the Journal of Teacher Education.   Outside of work, Dr. Hsieh is a wife and mother to 4 children (ages 5-30) and a small dog.  She runs half marathons and loves delicious food. She's actively involved in her church's social justice committee and gospel choir, and every so often, she tries to get some sleep.  She is constantly pursuing better work-life balance and boundary setting.
June 2021 Spotlight – CCTE Board of Directors Ernest Black
Dr. Ernest Black is the current Systemwide Director for the CalStateTEACH program, a multiple subject program in the California State University System. He earned his doctorate in education from the University of Southern California, master's degree from National University and bachelors of arts degree from Western Michigan University. He has contributed to the development of programs and policy to increase the numbers of African American and Latino males into the teaching profession. He has participated in the Network Improvement Committee of AACTE on the topic. He is also involved with the Policy Committee of the California Council of Teacher Educators (CCTE). In addition to participating with CCTE as a board member, he is currently also on the boards of California Teacher Corps (CTC) and Center for Reaching and Teaching the Whole Child (CRWTC). 
Dr. Black has spent over 20 years in education. Before earning his doctorate, he started as K-12 teacher in the Los Angeles Unified School District. He has taught at both the elementary and high school levels in South Central Los Angeles. Currently, his focus is on retention of Black and Latinx males in the education profession. His most recent publication is
Desperate Measures: How Teacher Preparation Programs can Engage and Retain Black Male Teacher Candidates. Educational Renaissance, Vol 9, 28-35 (2020). He also provides professional development for educators to increase academic achievement for Black male students in K-12 environments and professional development for Black male retention for educator preparation programs.
May 2021 Spotlight – CCTE Awards Committee Chair Mary Soto
Dr. Mary C. Soto was on the board for the California Council on Teacher Education (CCTE) from 2018-2021. Her career in education began as a high school ELA/ELD and Theater teacher in California, Mexico, and Texas. She taught in the Bilingual Authorization Teacher Preparation Program at California State University Chico and is currently an Assistant Professor in the Teacher Education Department at California State University East Bay. She teaches classes for both multiple and single subject candidates on meeting the needs of Emergent Bilingual students. In addition, she teaches secondary ELA Methods.
Dr. Soto's current research interests focus on ways that teachers can organize their curriculum around thematic units using authentic reading and writing projects to motivate and engage emergent bilinguals. In addition, she has been exploring the use of translanguaging to promote biliteracy as a means of helping emergent bilinguals be successful academically and supporting the maintenance of their native languages.
Each year, she presents for national and international conferences. This year she gave two virtual presentations for Teachers of English to Speakers of Other Languages (TESOL): Applying Translanguaging in Units of Study and Translanguaging Strategies that Draw on Students' Cultures.
Recent publications include co-authoring Equitable Access for English Learners: Strategies and Units for Differentiating Your Language Arts Curriculum (Corwin, 2020) and Between Worlds: Access to Second Language Acquisition 4th Edition (Heinemann, 2021).
April 2021 Spotlight – CCTE Board of Directors Shadi Roshandel
Dr. Shadi Roshandel started her career in education as a Middle School Math teacher in the New York City public schools and then earned her PhD in Education with an emphasis in Child and Adolescent Development from University of California, Santa Barbara.  She is an Assistant Professor at California State University East Bay in the Teacher Education Department and the Assessment and Accreditation Coordinator for the College of Education and Allied Studies.  Prior to her arrival at CSUEB, she was the Program Director of the Single Subject Program and Assessment Coordinator in the Department of Education at Dominican University of California.  She has been a member of California Council on Teacher Education (CCTE) since 2012 and currently serves on the Board of Directors.
Over the last nine years, she has worked with pre-service teachers, striving to teach pedagogical practices that emphasize equity and inclusivity.  Her research interests focus on adolescent motivation and achievement among middle and high school students and exploring the influences of teacher support on adolescent motivation and achievement.  She explores the transactional relationship between teachers and students and apply these findings to implement professional development programs in schools for both pre-service as well as in-service teachers.  Prior to her doctorate work, she received her M.S. in education at Brooklyn College and her B.A. in psychology from the University of Michigan.
March 2021 Spotlight – CCTE Board of Directors & CCNews Editor Terrelle Sales
Dr. Terrelle B. Sales has worked in many capacities during his tenure in public education beginning as a Middle School Mathematics teacher all the way up to a High School Assistant Principal of Mathematics and Science Instruction. He currently works as the Assistant Professor of Graduate Education at Vanguard University and works with the Commission on Teacher Credentialing for the state of California on the Education Specialist Teacher Performance Assessment Design Team. In 2020 Dr. Sales was elected to serve on the Board of Directors for the California Council on Teacher Education (CCTE) and is also the newly appointed Editor for CCNews. Dr. Sales' research interests include critical pedagogy, critical theory, critical theology, and theology. His dissertation topic focused on the interconnectivity of theology and critical pedagogy, ultimately leading to what he has deemed the Pedagogy of Jesus Christ. In 2019 he had the privilege of presenting with Dr. Antonia Darder at the American Educational Research Association conference (AERA) for the session, "Decolonizing Interpretive Research: A Subaltern Methodology for Social Change." Dr. Sales has been happily married to his wife Porsha Sales for 14 years and ecstatically looks forward to spending the rest of his life adoring her. They share the joint calling of foster care and sees it as a ministry to help show the love of Christ to children of all ages. They currently have four children Levi (8), Ashton (6), Sharia (4), and Celestia-Luna (4). It has been Dr. Sales' dream to become a full-time faculty member and although Vanguard University will always have a special place in his heart, he has accepted a tenure track position as the new Assistant Professor of Teacher Education at Pepperdine University. Dr. Sales is currently working to convert his dissertation "An Emancipatory Pedagogy of Jesus Christ: Towards a Decolonizing Epistemology of Education and Theology" into a manuscript that will be published this June through Hamilton Books. Dr. Sales received his B.A. in Liberal Arts from Pepperdine University, his M.A. of Education in Teacher Leadership from Vanguard University, and his Ed.D in Educational Leadership for Social Justice from Loyola Marymount University.
February 2021 Spotlight – CCTE President-Elect Heidi Stevenson
 In No One is Too Small to Make a Difference, 16-year-old Greta Thunberg asks, "…if solutions within this system are so impossible to find then maybe we should change the system itself?" As teacher educators we are uniquely positioned to interrupt systemic inequities and increase TK-12 student academic achievement and ability to thrive.
To achieve this goal Heidi believes we must continually ask ourselves a question posed by Django Paris  (2016), "How can we prepare teachers to enact pedagogies that meet the needs of the new mainstream; students of color characterized by multilingualism, multiculturalism, and the desire to strive toward equality in an unequal and shifting racially and ethnically diverse society?"
Heidi Stevenson's work as Associate Director of Center for Reaching & Teaching the Whole Child (CTWC) is focused on supporting students and educators by promoting the integration of social, emotional and cultural competencies (SEC) throughout the teacher professional development pipeline from university teacher preparation, to beginning teacher support, and ongoing teacher professional development to address structural racism, well-being and academic achievement. CRTWC offers professional development for TK-12 educators, induction and teacher coaches, and teacher educators.
Heidi currently serves as President-Elect of the California Council on Teacher Education and representative on the California Department of Education Taskforce on developing transformative social-emotional learning competencies.  Prior to that Heidi worked as a teacher of young children, Associate Professor of Education at University of the Pacific, and Visiting Professor at University of California, Berkeley.  In all she does, Heidi works collaboratively toward supporting an anti-racist and anti-marginalization educational system that best meets the needs of our society's biggest asset, our diverse next generation. 
January 2021 Spotlight – CCTE Vice-President for ATE Michael Cosenza
Dr. Michael Cosenza has been a member of the California Council on Teacher Education (CCTE) since 2006 and currently serves as an officer in the role of Vice-President-ATE. CCTE is the state affiliate of the Association of Teacher Educators (ATE) and in this position, he serves as the liaison between the two organizations.  Since taking office in 2018, Michael has strengthened the partnership between ATE and CCTE and spearheaded the first California Clinical Fellows Symposium, reproducing ATE's national program at the state level. He also represents CCTE each year at the ATE National Delegate Assembly where all the association's policies and procedures are adopted.
Other CCTE-related affiliations include the California Association of School University Partnerships (CASUP) which Michael a co-founded in 2010. He currently serves on the CASUP Board of Directors as its Treasurer.  Meaningful partnerships between p-12 schools and universities are essential for the preparation of aspiring teachers. CASUP provides support, resources and opportunities to share best practices for the creation and sustainability of substantive partnerships and high-quality clinical field experiences.  Outside of CCTE, Michael serves on the Board of the National Association for Professional Development Schools (NAPDS) and is its immediate past-president.
Dr. Cosenza holds a BA in American Government, an M.Ed. in Teacher Leadership and an Ed.D. in Educational Leadership.  He has been a faculty member at California Lutheran University since 2006.  At Cal Lutheran, he serves as the Director of the PDS-Residency program in the Department of Learning and Teaching.  The residency program requires teacher candidates to participate in a year-long clinical placement at one of 4 partner schools in Ventura County.  At Cal Lutheran, Michael also serves on the Faculty Senate, representing the Graduate School of Education.
December 2020 Spotlight – CCTE Past President Virginia Kennedy
Dr. Virginia Kennedy is a long-time member of the California Council on Teacher Education (CCTE) and has served as committee member, Board member, and most recently as its President from 2018-2020. She has been on many CCTE conference committees, has made several CCTE conference presentations, and is presently co-chairing her third CCTE conference, to be held in Fall 2021. She also serves on CCTE's Intersegmental Project Task Force, which develops and coordinates the Professional Development for Mentoring New Teachers certificate program for mentor teachers and clinical practice supervisors.
Other CCTE-related current affiliations include the California Association of Professors of Special Education/Teacher Education Division of the Council for Exceptional Children (CAPSE/TED), and the California Alliance for Inclusive Schooling (CAIS), both associated organizations of CCTE. She also participates in the Special Education SIG (Special Interest Group) and the Induction SIG. She co-chairs the Preparation Subcommittee of California CEEDAR.
Dr. Kennedy is a faculty member at California State University Northridge in the Department of Special Education, with a focus on teacher preparation in the area of mild/moderate disabilities, and is the Induction Coordinator. Recent presentations include "Induction and the Changing Face of Special Education" at the California Induction Conference (2019), and "When Policy Implementation Needs Updating: Induction and Changes in Inclusive Education", CCTE SPAN Conference 2020, with Dr. Melissa Meetze-Hall.
November 2020 Spotlight – CCTE President Eric Engdahl
Dr. Eric Engdahl has served as Chair of the Department of Teacher Education at Cal State East Bay since 2014. He is President of the California Council on Teacher Education (CCTE). He served on the California Department of Education (CDE) Visual and Performing Arts (VAPA) Standards Advisory Committee, co-chaired the CDE VAPA Curriculum Framework and Evaluation Criteria Committee, on the CTC Theatre Subject Matter Advisory Panel, and recently co-facilitated a session on test item review.
His current research agenda focuses on Social Emotional Learning/Culturally Responsive Teaching and Arts Integration. In 2019-2020 he led an "Arts Learning Lab" at the University of Tennessee, Chattanooga, Southeast Center for Education in the Arts on SEL and Arts Integration, with an emphasis in Early Childhood Education. Recent publications include a chapter in Preparing educators for arts integration: Placing creativity at the center of learning (Teacher's College Press, 2017) and "We'll come back when you're teaching: Examining the need for curricular reform in higher education in response to the introduction of transitional kindergarten in California's public schools," (Teacher Education Quarterly, 2018).
Dr. Engdahl holds a Ph.D. in Theater History/Criticism from the University of California, Los Angeles, a M.F.A. from the Professional Acting Program at Southern Methodist University, and a B.A. from Pomona College. Many years ago he ran away and joined the circus, spending a season as a Ringmaster.
October 2020 Spotlight – Executive Secretary Alan Jones
Dr. Alan H. Jones has been involved as a member of the California Council on Teacher Education since 1974, including service as an elected member of the Board of Directors in the late 1970s, as editor of Teacher Education Quarterly from 1987 through 1998, as chair of the Policy Committee in the mid-1990s, as a speaker at semi-annual CCTE conferences on multiple occasions, and as part-time Executive Secretary of the organization since 1998. In the Executive Secretary role he reports to the CCTE officers and Board of Directors, with responsibility for annual membership, organization of semi-annual conferences, development and monitoring of the annual budget, communications, and support for committees and associated organizations.
Alan also is the owner and publisher at Caddo Gap Press, a small educational publishing company in San Francisco that specializes in journals in the fields of teacher education, the social foundations of education, and multicultural education. The company publishes both Issues in Teacher Education and Teacher Education Quarterly under sponsorship of CCTE.
Prior to his current work with Caddo Gap Press and CCTE, Alan has been a junior high school teacher in Ann Arbor, Michigan, an instructor at the University of Michigan School of Education, an assistant professor in social foundations of education at Eastern Michigan University, chair of the Department of Education at Sacred Heart University in Bridgeport, Connecticut, a researcher with the Office of Institutional Research at the University of Michigan, a consultant with the California Commission on Teacher Preparation and Licensing, the executive secretary of the Michigan Chapter of the American Association of University Professors, and an editor and publisher at Prakken Publications in Ann Arbor, Michigan. He holds B.A., M.A., and Ph.D. degrees from the University of Michigan in history, international education, and the social foundations of education.